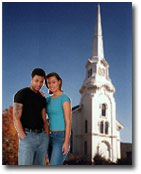 You will need to create a free user account to access the church information and to use the exclusive request information service.


Some of the churches have "

enhanced profiles" which means they have added additional information to our database. Feel free to browse the list of churches. When you click on the enhanced profiles you will often find a website for the church also.
To use the information request feature:
Check out the churches, when you find a church that interests you, place a check in the box after the contact information, click add to list and this church will be saved into a list When you have selected all the churches you may be interested in, you will be able to complete a bit of information about yourself and then with one click, you can send an email requesting additional information to any of the churches with an email address. You can create and print a letter to the churches without email.